.
KAABAH ADALAH QIBLAH
.
PERISTIWA PERUBAHAN ARAH QIBLAT
PERISTIWA penting dan bersejarah yang berlaku kepada diri Rasulullah SAW serta Muslimin pada Syaaban ialah peristiwa perubahan arah kiblat dariMasjidil Aqsa di Baitulmaqdis ke Masjidil Haram (Kaabah) di Makkah al-Mukaramah.


Kisah perubahan kiblat berlaku pada tahun kedua Hijrah. Rasulullah SAW menunaikan solat menghadap ke Baitulmaqdis selama 16 atau 17 bulan, tetapi Baginda ingin menghadap ke arah Kaabah sebagai kiblatnya.



Selepas diperintahkan Allah untuk berpaling ke Kaabah, solat pertama dilakukan Baginda SAW ialah solat Asar yang diikuti beberapa orang sahabat. Sesudah itu, seorang sahabat keluar dari masjid dan melihat dalam masjid lain jemaah sedang rukuk dan masih menghadap ke arah Baitulmaqdis.



Maka dia berseru: "Demi Allah, aku bersaksi bahawa aku bersolat bersama Nabi Muhammad SAW menghadap ke Kaabah di Makkah. Kemudian orang yang bersolat itu terus berpusing menghadap ke Kaabah dalam solat itu juga." (Hadis riwayat Bukhari)



Ibnu Sa'ad dalam kitab al-Tabaqat ada meriwayatkan bahawa Rasulullah SAW sedang melawat Ummu Bisyr bin al-Barra' bin Mabrur di kawasan Bani Salamah. Beliau menyediakan jamuan untuk Rasulullah SAW dan sahabatnya.



Apabila tiba waktu Zuhur, Baginda bersolat di masjid perkampungan itu. Ketika Baginda berada dalam rakaat yang kedua solatnya, turun wahyu daripada Allah memerintahkannya supaya menukar arah dari Masjidil Aqsa ke arah Kaabah di Masjidil Haram.



Baginda terus berpaling menghadap ke arah Kaabah ke sudut bertentangan dengan mizab (saluran emas) dengan pusingan 180 darjah dan terus menyambung baki solatnya. Masjid itu dinamakan Masjid Qiblatain yang masih ada di Madinah sebagai salah satu tempat lawatan jemaah yang mengerjakan umrah mahu pun haji di sana.



Imam Bukhari juga ada meriwayatkan daripada Abdullah ibnu Umar ketika orang bersolat Subuh di masjid Quba', tiba-tiba datang berita mengatakan Rasulullah SAW diarahkan supaya menghadap ke Kaabah, maka mereka pun berpaling ke arah itu.



Mengenai perbezaan riwayat berkenaan perubahan kiblat, al-Hafiz Ibnu Hajar ada menjelaskan bahawa solat pertama menghadap Kaabah ialah solat di Bani Salamah di masjid Qiblatain iaitu solat Zuhur. Solat pertama menghadap kiblat di Masjid Nabawi pula ialah solat Asar. Solat Subuh pula ialah di Masjid Quba.



Selepas berlaku perubahan kiblat, orang munafik dan kaum Yahudi meragui kejadian itu lalu bertanya: "Apakah yang menyebabkan mereka berpaling dari kiblat yang mereka hadapi selama ini?"



Sebagai jawapan kepada pertanyaan yang sengaja dilontarkan kaum Yahudi sebagai bahan ejekan dan sindiran serta untuk mengelirukan kaum Muslimin, Allah berfirman bermaksud: "Orang yang bodoh itu akan berkata: Apakah yang menyebabkan orang Islam berpaling dari kiblat yang mereka hadapi selama ini? Katakanlah (wahai Muhammad): Timur dan Barat itu kepunyaan Allah (maka ke mana saja diarahkan Allah untuk menghadap, maka wajiblah dipatuhi). Allah yang memberi petunjuk kepada sesiapa yang dikehendaki-Nya ke jalan yang lurus." (Surah al-Baqarah, ayat 142)



Perubahan arah kiblat adalah satu tamparan cukup hebat kepada kaum Yahudi yang selama ini berbangga dengan kiblat mereka iaitu Baitulmaqdis hingga mencemuh dan mengejek umat Islam kerana terpaksa bergantung dan mengikut walaupun dalam menentukan arah solat pada ketika itu.



Malah, kewajipan bersolat menghadap kiblat adalah satu perintah dan ketetapan daripada Allah dan sesiapa saja tidak boleh mempersoalkan mengapa perlu menghadap Kaabah apabila melakukan solat.



Inilah sebenarnya konsep ketaatan, kepatuhan mutlak hanya kepada Allah saja dalam apa juga keadaan dan tidak boleh disamakan dengan ketaatan kepada makhluk.



Berkaitan Kaabah, Rasulullah SAW bersabda bermaksud: "Kaabah itu kiblat bagi orang yang di dalam masjid, dan masjid itu bagi orang yang di Tanah Haram (Makkah), dan Haram (Makkah) itu kiblat bagi penduduk bumi dari barat hingga ke timur daripada umatku." (Hadis riwayat Al-Qurthubi)



Kemuncak peristiwa itu ialah ia melambangkan kebenaran daripada Allah untuk kembali berkiblatkan Kaabah, sekali gus ia adalah contoh doa Rasulullah SAW yang dikabulkan Allah. Ia kerana Rasulullah SAW sudah lama mengangkat tangannya berdoa dan memandang ke langit meminta pertukaran kiblat ke Kaabah. Permintaan Rasulullah diperkenankan Allah pada Syaaban.



Selanjutnya, sebahagian kaum Muslimin berkata: "Kami ingin mengetahui mengenai orang yang meninggal dunia sebelum pemindahan kiblat (dari Baitulmaqdis ke Kaabah). Bagaimana juga dengan ibadat solat kami sebelum ini ketika kami masih menghadap ke arah Baitulmaqdis."



Sesungguhnya Allah tidak akan mensia-siakan iman mereka yang beribadah menurut ketentuan ketika itu. Firman-Nya bermaksud: "Dan demikianlah Kami jadikan kamu (umat Muhammad) sebagai satu umat pilihan dan pertengahan, supaya kamu menjadi pemberi keterangan (saksi) kepada umat manusia (mengenai kebenaran dan kebatilan), dan Rasulullah akan menjadi saksi kebenaran kamu. Dan Kami jadikan kiblat yang dulu itu hanyalah sebagai ujian untuk mengetahui siapakah yang benar-benar mengikut Rasul dan siapa pula yang berpaling tadah. Dan sesungguhnya (peralihan arah kiblat) itu sangat berat kecuali kepada orang yang diberikan petunjuk oleh Allah. Dan Allah tidak akan mensia-siakan dan menghilangkan keimanan kamu. Sesungguhnya Allah Maha Mengasihani dan Merahmati orang yang beriman." (Surah al-Baqarah, ayat 143)



Mafhum ayat suci di atas menegaskan kedudukan umat Islam sebagai umat pilihan dan pertengahan serta akan menjadi saksi pada hari akhirat kepada umat sebelum ini. Umat pilihan atau pertengahan itu bermaksud tidak hanya mementingkan kerohanian dan kebendaan semata-mata, tetapi berada di tengah-tengah.



Sama mementingkan dunia dan akhirat, kerohanian dan kebendaan, perseorangan dan masyarakat. Pertimbangan dan pengetahuannya mengenai baik atau buruk sesuatu perkara itu adalah adil, benar dan sah. Umat yang demikian layak memberi keterangan kepada orang lain.



Demikianlah hikmah dan pengajaran yang tersurat dan tersirat di sebalik peristiwa perubahan kiblat yang menjadi satu kewajipan ditaati setiap Muslim ketika menunaikan ibadat solat lima waktu ke arah Kaabah



Di samping itu, ia membuktikan kepentingan Baitulmaqdis di sisi Islam yang sepatutnya dikembalikan di bawah ketuanan umat Islam di Palestin. Masjidil Haram, Masjid Nabawi dan Masjidil Aqsa adalah tiga simbol syiar Islam di bumi Allah ini.
ref: agamaberitaharian.blogspot.com


REKABENTUK DAN BINAAN KAABAH
Kepada penganut agama Islam, perkataan KAABAH dalam satu perkataan yang amat penting dan Agung dalam kamus Islam. Ia melibatkan kesempurnaan untuk menjadi menyempurnakan salah satu dari 5 TONGGAK atau RUKUN ISLAM, iaitu menunaikan Fardhu Haji.
Saya sudah bercerita secara panjang lebar tentang makna dan pelaksanaan ibadah haji di bawah TAJUK PANGGILAN HAJI 1, 2, 3 dan 4. Sejak saya pulang dari Mekah pada bulan Disember 2010, setiap kedatangan Musim Haji akan menendang lubuk hatiku. Kesayuan meninggalkan kota Makkah pada 3 Nov 2010 dan meninggalkan kota Madinah pada 11 Dis 2010 adalah sesuatu yang tidak boleh aku lepaskan dari dalam benak dan lubuk hatiku. Biar pun cita-cita sentiasa membara untuk kembali ke sana dengan apa jua cara, namun ia masih dalam impian dan usaha. Mungkinkah tarikh-tarikh 30 Okt hingga 11 Dis 2012 itu adalah kali pertama dan terakhir buatku, ATAU Allah swt masih menyayangi diriku untuk berpeluang ke sana lagi. Semua telah ada dalam catatan Allah azawwajalla.
Setiap kali kedatangan musim Haji, pasti aku akan mencari modal baru untuk ditulis dalam blog aku ini. Kali ini aku teruja untuk mendapatkan gambar-gambar Kaabah yang lama dan baru.
Melihat gambar Kaabah dalam tahun 50an, aku terbayang bagaimana datuk-datuk, nenek-nenekku serta ayah ibuku menunaikan Haji dahulu. Kesulitan dan kesukaran yang mereka hadapi. Hanya bukit batu dan padang pasir semata. Tidak seperti masa aku ke sana, banyak bangunan moden dan pokok-pokok yang boleh menjadi perlindungan. Malah semasa di Arafah dan di Mina, kami duduk dalam khemah-khemah yang selesa (dalam keadaan seperti itu- aku rasa selesa). Mungkin, dahulu tidak seramai manusia seperti sekarang sehingga menyebabkan tempat melontar jumrah dibina setinggi 5 tingkat. Tahun lapan puluhan dulu, kerap terdengar cerita jemaah haji Malaysia mengalami kerumitan untuk melontar, risiko dirempuh oleh gerombolan jemaah Iran, Turki dan Afrika. Sekarang rukun melontar dilaksanakan dengan aman.
Each numbered item in the following list corresponds to features called out in the diagram image.
Al-Ħajaru l-Aswad, "the Black Stone", is located in the Kaaba's eastern corner. Its northern corner is known as the Ruknu l-ˤĪrāqī, "the Iraqi corner", its western as the Ruknu sh-Shāmī, "the Levantine corner", and its southern as Ruknu l-Yamanī "the Yemeni corner". The four corners of the Kaaba roughly point toward the four cardinal directions of the compass. Its major (long) axis is aligned with the rising of the star Canopus toward which its southern wall is directed, while its minor axis (its east-west facades) roughly align with the sunrise of summer solstice and the sunset of winter solstice.

The entrance is a door set 2.13 m (7 ft) above the ground on the north-eastern wall of the Kaaba, which acts as the façade. In 1979 the 300 kg gold doors made by chief artist Ahmad bin Ibrahim Badr, replaced the old silver doors made by his father, Ibrahim Badr in 1942. There is a wooden staircase on wheels, usually stored in the mosque between the arch-shaped gate of Banū Shaybah and the Zam Zam Well.

Rainwater spout made of gold. This was added in the rebuilding of 1627 after the previous year's rain caused three of the four walls to collapse.

Gutter, also added in 1627 to protect the foundation from groundwater.

Hatim, a low wall originally part of the Kaaba. It is a semi-circular wall opposite, but not connected to, the north-west wall of the Kaaba known as the hatīm. This is 90 cm (35 in) in height and 1.5 m (4.9 ft) in width, and is composed of white marble. At one time the space lying between the hatīm and the Kaaba belonged to the Kaaba itself, and for this reason it is not entered during the tawaf. Some believe that the graves of Ishmael and his mother Hajar are located in this space. Pilgrims do not walk in the area between this wall and the Kaaba.

Al-Multazam, the part of the wall between the Black Stone and the entry door.

The Station of Abraham

, a glass and metal enclosure with what is said to be an imprint of Abraham's foot. Abraham is said to have stood on this stone during the construction of the upper parts of the Kaaba, raising Ishmael on his shoulders for the uppermost parts

.

Corner of the Black Stone (South-East).

Corner of Yemen (South-West). Pilgrims traditionally acknowledge a large vertical stone that forms this corner.

Corner of Syria (North-West).

Corner of Iraq (North-East).

Kiswa, the embroidered covering. Kiswa is a black silk and gold curtain which is replaced annually during the Hajj pilgrimage. Two-thirds of the way up is a band of gold embroidered Quranic text, including the Syahada, the Islamic declaration of faith.

Marble stripe marking the beginning and end of each circumperambulation.
Menurut sejarah Islam, Kaabah dibina semula sebanyak 12 kali. Para akademik dan sejarawan berkata Kaabah dibina semula antara lima hingga 12 kali. Pembinaan pertama Kaabah dilakukan oleh Nabi Adam (as). Allah SWT menyatakan dalam al-Quran Kaabah adalah rumah pertama dibina untuk manusia menyembah Allah SWT. Selepas itu, Nabi Ibrahim (as) dan Nabi Ismail (as) membina semula Kaabah.
Lebar ukuran Kaabah diasaskan oleh Ibrahim adalah seperti berikut: 'Dinding Timur' adalah 48 kaki dan 6 inci 'Dinding Hatim' adalah 33 kaki 'Dinding antara Hajar Aswad dan sudut Yamani' adalah 30 kaki 'Dinding Barat' adalah 46.5 kaki. Selepas ini berlaku beberapa pembinaan semula sebelum masa Rasulullah (SAW). Pembinaan semula Kaabah oleh kaum Quraish Rasulullah mengambil bahagian dalam salah satu daripada pembinaan semula ini sebelum baginda menjadi Rasul.
Selepas satu banjir kilat, Kaabah mengalami kerosakan dan dindingnya retak. Ia perlu dibina semula. Tugas ini dibahagikan antara empat puak Quraish. Rasulullah turut membantu dalam usaha pembinaan semula ini. Setelah dinding-dindingnya dibina semula, tiba masanya Hajar Aswad diletak semula di tempatnya di dinding Timur Kaabah.
Pertelingkahan berlaku apabila tiba masa untuk menentukan siapa mendapat penghormatan meletakkan batu Hajar Aswad itu. Apabila pertelingkahan hampir bertukar menjadi pergaduhan, Abu Umayyah, penduduk tertua Makkah, mencadangkan agar lelaki pertama yang memasuki pagar masjid pagi keesokkannya akan menentukan perkara berkenaan.
Lelaki itu ialah Rasulullah. Penduduk Makkah bergembira. "Ia adalah al-Amin. Ia adalah Muhammad," jerit mereka. Baginda menghampiri mereka lalu mereka memintanya supaya memutuskan perkara itu. Baginda bersetuju.
Rasulullah mencadangkan agar batu hitam itu diletak di atas sehelai kain, setiap bucu kain dipegang oleh seorang pemimpin puak. Kain itu diangkat ke tempat batu itu hendak diletak. Rasulullah kemudian mengambil batu itu dan meletakkannya di tempatnya di dinding Kaabah.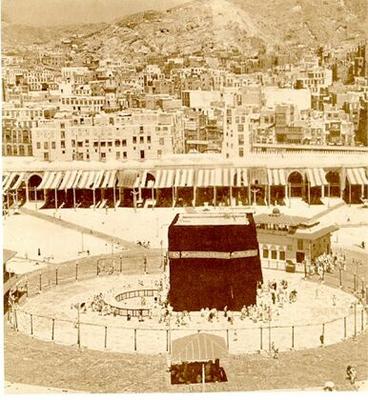 BAKAL WAJAH BARU KAABAH 2020
.

.


,
FUTURE MAKKAH
LAGI GAMBAR-GAMBAR LOKASI IBADAH HAJI
.
.
Selamat menyempurnakan ibadah Haji (tahun ini) untuk saudara-saudaraku dari Surau Luqman Hakim:
Kol Ridzuan Omar, Kept Shamsudin, Kdr Sharom, Kdr Nazari dan isteri (Kdr Saadiah) dan Lt Kol Mohamad Yatim (Skot).

Rakan-rakan lain adalah: Mej Jen Dato Kamalruzaman Mohd Othman TUDM, Brig Jen Mutalib Wahab TUDM, Lt Kol Hj Mohd Khalil Mohd Ali TUDM.